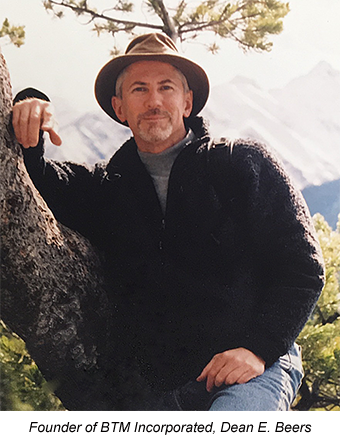 Dean Beers started BTM Incorporated, formerly known as Beers Tooling & Machining in 1988. Dean, the owner, and founder was a Journey Man Machinist with 15 years of experience in the pump industry. Dean's objective for starting his own business was to be able to provide quality parts to the pump industry at a fair price, made here in the United States. BTM Inc became one of the few machine shops qualified to ship finished parts directly to the field for pumps which are out of service for existing customers.
Dean brought on many people with many years of experience in the pump industry. BTM also has a strong relationship with Carbon Career & Technical Institute and accepts cooperative education students who are eager to learn and begin their careers as precision machinists. BTM provides up to date training and state of the art machinery for those who are willing to learn the trade.
Following the owner and founder, Dean's death in 2009, his wife, Nancy became CEO of the company with Dave Henritzy as the company's operations manager, who was trained by Dean to carry on the business in his legacy and has served 22 years while doing so..